Way to come Dargah Ala-Hazrat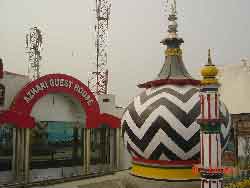 If you want to come Dargah Ala-Hazrat, you can choose following ways:
If you reach in Junction by train, you can select Cycle Rickshaw or Auto Rickshaw it will drop you directly at Dargah Ala-Hazrat. Or you can come "Chaupla" by Rickshaw or Auto and the proceed towards Kutub Khana you can find a turn on your left hand where you find a board "Raah-e-Ala Hazrat" it shell take to Dargah-e-Alahazrat.
Or reach "City Sabzi Mandi" and Dargah-e-Ala Hazrat in at walking on foot.